Custom Crests and Shields
We have the capability of creating a Custom Crest or Shield of your own design. It can be any image from a simple design to a complex family crest, organizational logo or image. Our artists will hand paint your image on a metal shield as shown below. The cost will depend on the complexity. Charges will be from $159 and up depending on the complexity of the artwork. See the instructions below on how to obtain a quote on a custom shield or crest.
All pieces shown here are on our stock 18" x 24" size shield in battle ready or hanging style
We also have another 4 point shield option available shown below
If you want this option, you must specify "4 Point Shield" otherwise we use the flat top standard shield shown above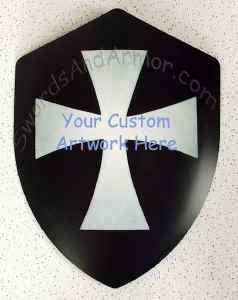 Examples From The Custom Shields Gallery
PLEASE NOTE: Our order volume for custom hand-painted shields increases significantly as we approach the holidays.
Production time in Nov. and Dec. may be as long as 3 weeks. Please Order Early !
PLEASE NOTE: Our order volume for custom hand-painted shields increases significantly as we approach the holidays.
Production time in Nov. and Dec. may be as long as 3 weeks. Please Order Early !
1. Send us a high resolution photo in .JPG (JPEG) Format via email at the address shown below. Remember the more detail, the better.
2. Tell us what portion of the image that you want, ie. just the shield portion of a crest or an entire image. Remember the our quote will be proportional to the complexity of the project.
3. Give us any specific color instructions. Remember that digital images vary in color slightly according to the type and quality of a specific computers video system hardware.
4. Specify whether you want a shield to hang on the wall or a hand-held version. It makes a difference in the type of shield we make for you.
5. We will evaluate the project and get you a firm quote within 2 business days.
eMail your image to . . . Sorry, you'll have to type this into your email program


Custom Shields Crests Index Swords and Armor Home Medieval Crests link partners links
Swords and Armor Closeouts and Specials !
New Introductions - Closeouts - All Great Bargains
Contact Us Via Email
or Call Us at... 706-235-1670 (M-F, 8-5 est.) To Place Order by Phone
Shipping Policies and Rates - Returns
How To Order . . .
Just click on the desired item. That will take you to a new page. Enter the quantity you want then hit the add-to-cart button to put an item into your cart. Checkout is fast and easy with our secure ordering system.
Lead Time . . .
We normally ship orders within 1 business day. Delivery lead time varies from 2-8 business days. Rush service is available via 2 day and next day air. Rush orders placed after 12:00 noon will be shipped the following day.
Our Shipping . . .
is done via either FED EX Ground or UPS. Both offer equivalent service to all areas of the country for retail delivery. Larger wholesale orders can sometimes be shipped via common carriers to save on freight. This only applies to multiple bolt orders shipped to the same location.
Our Online Ordering System . . .
is as easy as it can be . Returning customers can start a new order or place a duplicate order just like you did last time. Just place the items that you want into you cart, continue shopping, then checkout anytime you like. The entire process is secure to protect your information from hackers and credit card thieves.
Your Privacy . . .
We never , ever sell share or trade your personal information with anybody for any reason. Your email address is also guarded. We only ask for it to confirm your online order. We Hate SPAM Too ! Your information does not become part of a mailing list that is sold or used to market you additional products. It is provided strictly for the purpose of processing your order and communicating directly to regarding the status, cost, lead time and shipping particulars of your individual order. Did I mention the we really hate SPAM too ! We promise, you won't get any from us.
Our Secure Checkout System . . .
features a secure online server for privacy and convenience. You can order with confidence. Your credit card and personal information are all secured with a high level of encryption to protect you from theft. Your info is privately locked during the checkout process. We also protect all pages where you would be entering personal information like phone numbers and home addresses as well as your credit card information.
Payment Methods






We accept most major credit cards including Visa, Master Card, American Express and Discover Card
You can also pay via money order or cashiers check if you prefer. Orders paid by personal check will be subject to a 10 day waiting period to ensure proper funding availability. We do not accept PayPal because we process our own credit card payments in house.
Our Online Order System is Secure - but if you are...
Not Comfortable Giving Your Credit Card Over the Internet - No Problem!
Call Us at... 706-235-1670 (M-F, 8-5 est.) To Place Order by Phone
All pages, images and text copyright © 2001-2014 swordsandarmor.com . All Rights Reserved