Richard Lionheart Shield - Antique
This Replica Medieval Shield Is Made in Spain and . . .

is constructed of painted steel with brass trim.. The shield size is 18" x 31" and it has a curved shape. It is the classic "Heater" style battle shield. This shield has a clamp mechanism on the rear of the shield to hold and display a sword securely with the shield.

Lionheart Shield Example and Optional Sword

SH803 Richard the LionHeart

Display Shield with Hanging Chain


Lionheart Shield

Richard Lionheart Shield with Cross

This wall mounted display shield is similar to the style above but slightly different in design. It has 3 lions on a brass shield over a crackle antique white background shield with a cross. There are brass appointments on the corners and throughout. On the back is a strong hanging chain to hang on the wall as well as a bracket for mounting one or two swords securely from the back for display. This shield has a really nice look to it and is a great value for the money.

SH014 LionHeart Display Shield with Hanging Chain and sword bracket
Another Richard Lion Heart Shield Design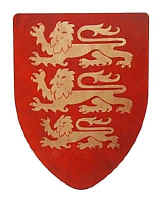 King Richard Shield
Richard the Lionheart
Born at Beaumont Palace, Oxford, September 8th, 1157, Richard was the third son of Henry II and his wife, Eleanor (Plantagenet) of Acquitaine. After the birth of their youngest child, John, Richardís parents went their separate ways. Queen Eleanor returned to her native Acquitaine, taking Richard with her, there established her own court and designated him her heir.
Richard was known to be fond of music and clothing. He was born in England yet spoke little English, his native language French.
He had the infamous ĎPlantagenetí temper and he and his elder brother, Henry, joined forces in rebellion against their father, King Henry II. His mother attempted to join them dressed as a man and was imprisoned for the remainder of Henry IIís reign. The untimely death of young Henry made Richard the heir to the entire Angevin Empire. Richard refused to share his lands and inheritance with his brother John. The family disputes raged on. In the meantime, Richard learned of the loss of the Holy City to the Moslem leader Saladin and proceeded to take immediate action.
Upon the death of King Henry II, Richard was crowned King of England. During his coronation that took place in Westminster Abbey on the 23rd of September 1189, a bat was seen to circle around the Kingís head. Many witnesses saw this as an evil omen.
Freeing his mother from the imprisonment imposed by his father, was one of Richardís first endeavors as king. His second action was to raise funds for his crusade to restore Christendom to the Holy City. He made a solemn vow to free Jerusalem. He levied a tax on his people called a Saladin Tithe to aid his war effort. This movement is known in history as the Third Crusade. Richardís crusading spirit and reputation for being brilliant and courageous spread through Christendom adopting him the name Coeur de Lion (Heart of a Lion).
Returning from the Crusades in 1192 King Richard the Lionheart had disappeared. His actions during the crusade angered many. He was captured and imprisoned by Leopold of Austria then sold to the Emperor of Germany. Legend has it that the Lionheartís minstrel, Blondel, journeyed in search of his king. Blondel heard his king singing in a castle and responded with a song that only they were sure to know because the two had composed it together. The facts show that a ransom was offered in the sum of 150,000 marks (equivalent to 2 tons of silver) and was backed by the Pope. Shortly thereafter he was released upon payment.
Richard only served six months out of his entire reign in England. It is said that he complained that it was "cold and always raining." Richard Ďthe Lionheartedí Plantagenet is more famous for his part in the Crusades than his reign as king. His love of fighting and wealth is the most famous of his dispositions. He is said to have cried: "I would sell London, if I could find a purchaser."
More Hanging Medieval Shields For Wall Display
Shields Index Medieval Shields Shields Index Swords and Armor Home View Cart Link Partners Links
Swords and Armor Specials !
New Introductions - Closeouts - All Great Bargains
Contact Us Via Email
or Call Us at... 706-235-1670 (M-F, 8-5 est.) To Place Order by Phone
Shipping Policies and Rates - Returns
How To Order . . .
Just click on the desired item. That will take you to a new page. Enter the quantity you want then hit the add-to-cart button to put an item into your cart. Checkout is fast and easy with our secure ordering system.
Lead Time . . .
We normally ship orders within 1 business day. Delivery lead time varies from 2-8 business days. Rush service is available via 2 day and next day air. Rush orders placed after 12:00 noon will be shipped the following day.
Our Shipping . . .
is done via either FED EX Ground or UPS. Both offer equivalent service to all areas of the country for retail delivery. Larger wholesale orders can sometimes be shipped via common carriers to save on freight. This only applies to multiple bolt orders shipped to the same location.
Our Online Ordering System . . .
is as easy as it can be . Returning customers can start a new order or place a duplicate order just like you did last time. Just place the items that you want into you cart, continue shopping, then checkout anytime you like. The entire process is secure to protect your information from hackers and credit card thieves.
Your Privacy . . .
We never , ever sell share or trade your personal information with anybody for any reason. Your email address is also guarded. We only ask for it to confirm your online order. We Hate SPAM Too ! Your information does not become part of a mailing list that is sold or used to market you additional products. It is provided strictly for the purpose of processing your order and communicating directly to regarding the status, cost, lead time and shipping particulars of your individual order. Did I mention the we really hate SPAM too ! We promise, you won't get any from us.
Our Secure Checkout System . . .
features a secure online server for privacy and convenience. You can order with confidence. Your credit card and personal information are all secured with a high level of encryption to protect you from theft. Your info is privately locked during the checkout process. We also protect all pages where you would be entering personal information like phone numbers and home addresses as well as your credit card information.
Payment Methods






We accept most major credit cards including Visa, Master Card, American Express and Discover Card
You can also pay via money order or cashiers check if you prefer. Orders paid by personal check will be subject to a 10 day waiting period to ensure proper funding availability. We do not accept PayPal because we process our own credit card payments in house.
Our Online Order System is Secure - but if you are...
Not Comfortable Giving Your Credit Card Over the Internet - No Problem!
Call Us at... 706-235-1670 (M-F, 8-5 est.) To Place Order by Phone
All pages, images and text copyright © 2001-2014 swordsandarmor.com . All Rights Reserved